5 Company Websites You Can Learn From
Daniel Bower
Company Websites Don't Have To Be So Complicated
1. Seattle Cider
Seattle is shining some light finally. This one-page website shows an ideal layout for a specialty product company. It opens with a breathtaking picture of the Rocky Mountains, which has the Seattle Cider logo displayed prominently in the center as an easy-to-make but attractive home page. It, therefore, defines itself as an eco-friendly and proudly nature-based company. Its menu bar that follows you as you scroll down the page will bring you anywhere you want to go. The products are presented simply, yet crisply (hopefully just as the product tastes), and the page even offers an interactive display of the brewing process as you scroll down. It's the epitome of a one-page website and should be an example for all. If you have a specialty company or want to sum up your company websites on one page with precise descriptions, this is your model.
2. Apple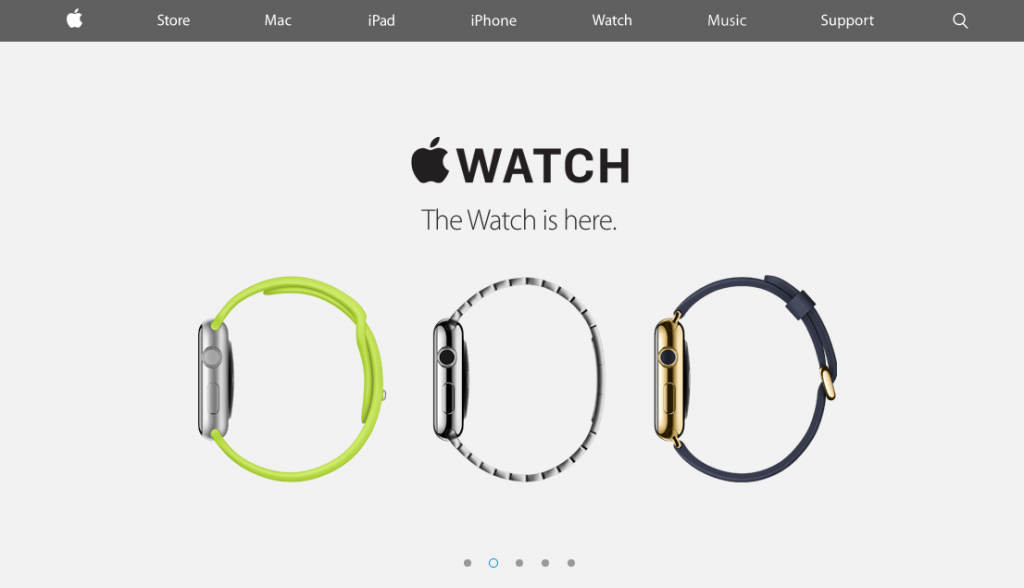 We have to talk about it. Apple is known as having some of the best advertising in any industry- in fact, its ideology of user-friendly simplicity, which comes out in its interfaces, is what some people contribute to its success. The company websites front page prominently features its newest items with bold, high definition pictures (the only type of pictures suitable for the modern internet). Its menus are one word long and written in simple, large font. You know exactly where you're going by clicking these menu buttons. It also uses a large amount of negative space, which is the blank space of a page in between content (pictures, text, etc.) that makes its content stand out more. This is a highlighting technique you can use if your content is on point and concise. Using simplicity is easy and attractive.
3. Auger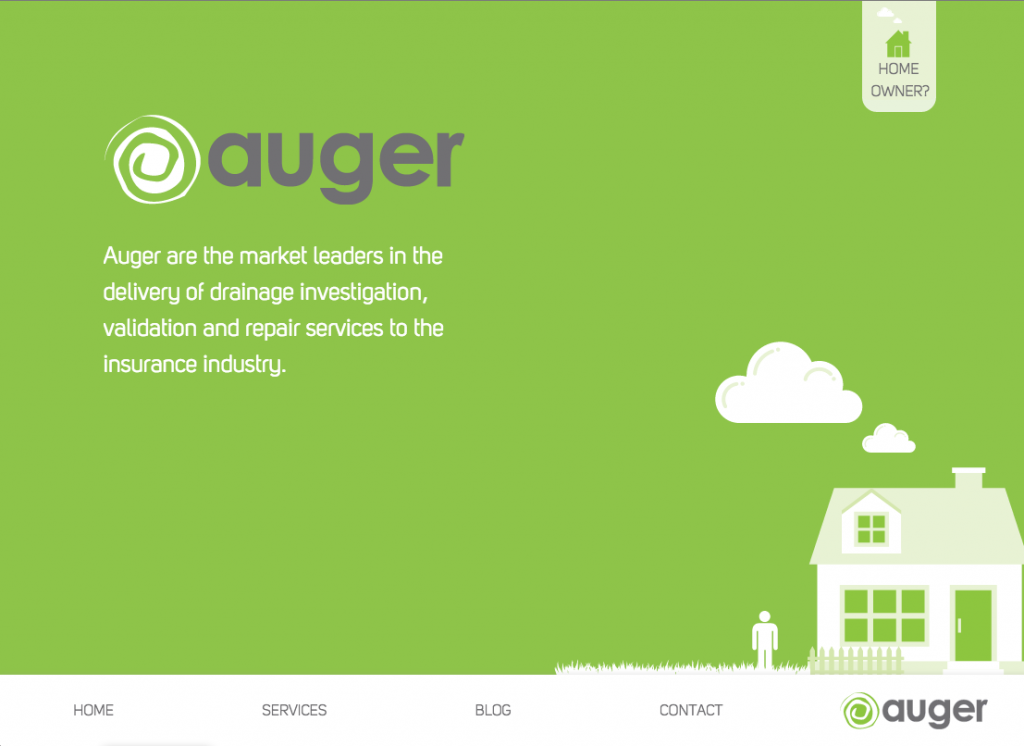 Drainage engineers exist? Auger.com is a great example for company websites in industries that are unlikely to find success online. The website's purpose is to explain what the company does by describing its services. In a fun way, with a front page that states the company's purpose right in your face. Auger makes drainage repair services seem cool and simple. They even created their own image on the home page and fit all of their information on this tidy one-page website. For a service company that most people don't know much – or anything – about, it educates its users and claims Auger as 'the' drainage service repair company. Also, its blog is up-to-date (updated every few days- great 'Stock and Flow' content marketing) and provides consumer reviews in an effective way. That's how you keep users on your page and draw a crowd.
4. Lexus.ca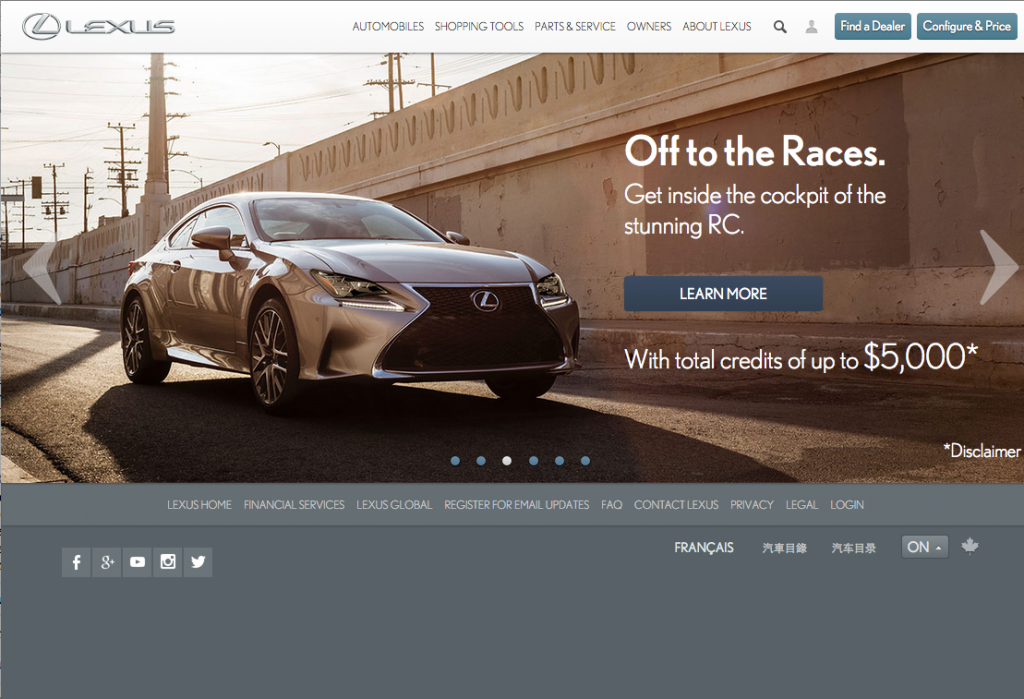 Canada does it up. In contrast to its .com company websites, Lexus.ca provides a modest, but fast website. Its products are listed under one tab, leaving the others to useful tabs such as the "Shopping Tools" tab that contains pricing, leasing estimates, promotions, and comparisons with other car brands. In addition, for each model car, it has a 'Create Your Car' interaction that allows consumers to make their dream car right on the website and see what it'll cost them. It also has a page for its owners that informs drivers about their cars. Lexus.ca offers a great variety of pictures, interactivity, and extremely useful tabs. In your own way, you and your company can do this purely by design.
5. Amazon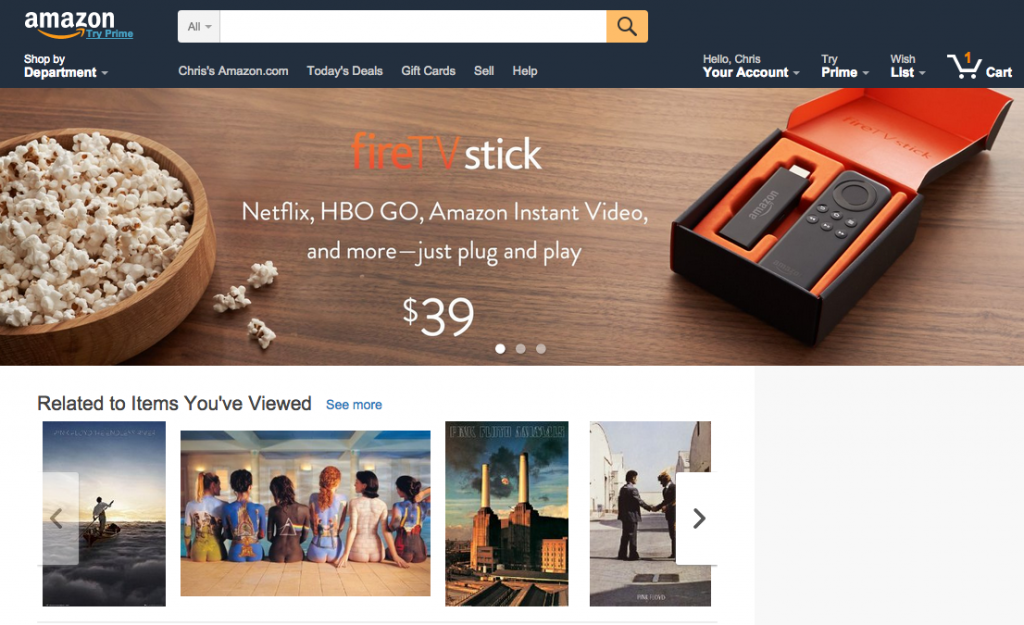 Amazon.com is the ultimate E-Commerce website. Its interface is user-friendly, simple, and subtly attractive. It has a featured items picture bar, a "recommended for you" section, and a department tab that features all of its product departments with their own categories. For a website that offers so many products, it sorts them well. Its Search bar is also a prime example (pun intended) as it can bring you where you want to go with just a couple of words- even if you don't know exactly what you want. In addition, Amazon has a membership program- called "Prime"- which gives great online discounts and shipping opportunities. For an online store, Amazon is the ideal. It also happens to be one of the fastest-growing and prominent businesses in the world. I wouldn't doubt it.