Bower Web Solutions Adds Another Five-Star Review to Its Clutch Collection
Omar Kozarsky
Bower Web Solutions is a rarity in the digital space in that we literally have decades of experience and have seen all the changes the industry has undergone. We know the how's and why's of everything that is today.
This experience is invaluable and readily available for anyone who wants to take advantage of it. Over the years, we've shown the sharpness of our team hasn't changed. Today, we're going to prove it again with the publication of our latest five-star review on the B2B platform Clutch.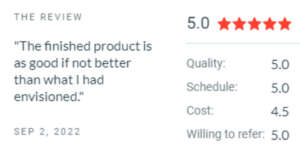 The company we were working with was a representative firm that had several New York City manufacturers as clients. We've already engaged with this company in the past in developing their website. The current project involved upgrading the platform.
The project itself was fairly straightforward. It was made even simpler because we were involved in the site's development. We can't go into much detail about it here, but those interested can read the full review on our Clutch profile.
There is one development that came from this review's publication that we're very excited to talk about. Thanks to the cumulative score we've earned over the course of the year, we've been included as one of the top media buying agencies on Top Design Firms.
This is a big boost for our team because of several reasons. For those unfamiliar with their work, Top Design Firms is a B2B platform that creates rankings of the top-performing businesses in various industries.
Our inclusion in one of their lists means we'll get more attention from potential clients, which ultimately leads to a higher likelihood of getting selected for projects. Another advantage this provides is that we can quickly establish ourselves as experts in the industry, taking a big burden off our marketing efforts.
Our team will take full advantage of these developments and ensure our clients get the best possible experience from their projects. When you work with Bower Web Solutions, you work with our team of dedicated web designers and digital marketers based in the United States and have years of experience.
We've worked with companies large and small, in every business category imaginable, from medical practices to law firms to industry to tech startups and anything in between. Learn more about our services and how we can help your operations by visiting our website.