Bower Web Solutions & the Goldman Sachs 10K Small Businesses Summit in DC
Daniel Bower
On July 18-20, Daniel Bower, President of Bower Web Solutions Inc., attended the Goldman Sachs 10,000 Small Businesses Summit in Washington, DC. The summit was the largest gathering of small businesses in US History and had over 2,800 attendees who were all graduates of the Goldman Sachs 10,000 Small Businesses program (10KSB). The three-day Summit was filled with inspiring and energizing conversations and meaningful advocacy opportunities with members of the Senate and House of Representatives.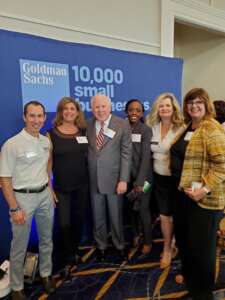 At the Summit, Dan met with John F.W. Rogers, Chairman of the Goldman Sachs Foundation, and both Senator Robert Mendenez and House of Representatives Member Josh Gottheimer. During these meetings, Dan advocated for the needs of small businesses which are the backbone of the American economy. Small businesses are often unable to compete with larger corporations to provide benefits such as paid leave, healthcare, and retirement. Dan recommended federal tax credits for small businesses to help provide competitive benefit packages that are needed in this ultra-tight labor market.
What is 10,000 Small Businesses:
The Goldman Sachs 10KSB program provides business education, support services and pathways to capital for growth-oriented entrepreneurs. Participants gain practical skills to take their business to the next level, with topics like financial statements, negotiations, and marketing. Participants develop an actionable growth plan for their business with the help of professional business advisors and a network of like-minded entrepreneurs. The program is free for participants and delivered in partnership with academic institutions across the country. To date, Goldman Sachs 10,000 Small Businesses has served over 12,000 businesses in all 50 states, Washington D.C. and Puerto Rico.
#MakeSmallBig
@GS10KSmallBiz