The Manifest: Bower Web Solutions one of the Most Reviewed PPC Agencies in NY
Phillip Mandel
The Manifest Recognizes Bower Web Solutions as one of the Most Reviewed PPC Agencies in New York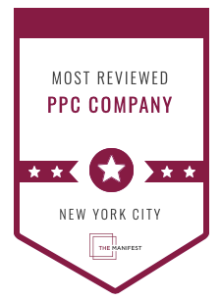 Ladies and gentlemen, without further ado, the Bower Web Solutions team is happy to announce that we've been recently named as one of the most-reviewed PPC agencies in New York by The Manifest. The Manifest research list was filled with amazing B2B companies which is why this is a huge achievement for us.
For those of you who aren't familiar with The Manifest, they are a business blog website that aims to gather and verify the hard data, expert insights, and actionable advice that you need to build your brand and grow your business – to provide the practical business wisdom that manifests in your success.
We would like to take this time to express our gratitude to our amazing clients and partners for supporting our business. You guys are the reason why we are able to win these awards and accolades in the industry! We'd like to showcase some of the best reviews from all of you guys as a token of our appreciation:
"They're punctual, available, and responsive — they immediately come back to us whenever we do a test, which is important for us because it allows us to get things done on time. Their competency and helpful advice are their biggest strengths, which are key for these projects."
– Dan Walker, President & CEO of Buyer's Edge Inc.
Thanks, Dan!
"I was impressed with the individualized attention they provided. They were very invested in helping us reach our goals and didn't make me feel like just another client."
– COO, Clinical Practice and Research Org
We truly believe in the power of reviews: read our article "How Important Are Online Reviews For Your Business?" for more info. And let's talk about how we can help you and your business!