Headshots for Social Networking
Tom Hart
Set your site and social marketing efforts apart from the rest and give it a personal and professional feel by using a quality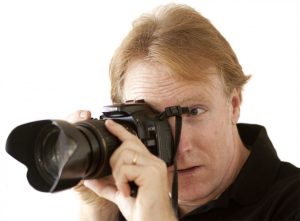 headshot or shots.
This does not mean take a photo of yourself in the bathroom mirror or grabbing one from some party. The background, the setting, the lighting and the pose all send a message, and you want that message to be that you and your company do things right.
Many photographers offer headshot or executive portrait deals. One suggestion is to get a bunch of headshots at once. Some photographers will let you change clothing a few times during the shoot so you can end up with a similar but different set of pictures. Pick something professional looking for LinkedIn and your corporate site, something maybe a little more casual for Facebook- but nothing too casual. You don't want to scare off possible business associates.
Personal branding expert William Arudda, recommends using the same headshot for all of your online presence as part of his presentation Web 2.0 and You: Using Social Media to Advance Your Career. At Bower Web Solutions, we recommend that you strive for a similar look and feel. You want people to be able to identify you offline at real networking events.
Another approach is to take a photo of you doing something that is pertinent to your business. Furniture salesman? Get a shot of you in your store selling your merchandise. Doctor…looking at an x-ray or interacting with patients.
But the basic point is that you want a quality, identifiable picture on your website and social marketing sites so the people will get to know you online so they can get to know you offline (also known as in person).
Shooting Headshots Yourself
Used properly, consumer digital cameras can produce acceptable results.  If you want to try to get a good shot yourself the biggest keys are getting consistent light, getting the subject to relax and smile, cleaning up the background  and getting rid of the pop-up flash.
Use Outside Light on an overcast day
Constant light without harsh shadows or uneven colors is most easily obtained on a bright but cloudy day, either outside or shooting into a room with a large, will let window behind you. Be sure to set the white balance of the camera to cloudy or auto.
Interior lights tend to offer uneven colors though a well-lit room in which all of the bulbs are the same type work. Professional photographers can spend thousands setting up a studio and get superior results indoors but for those with less experience who want to spend less getting outside is usually the best option.
Everyone Relax
Getting the subject to relax and smile is fine art, but taking a lot of shoots while trying to hold a relaxed conversation is a good start.
Cleaning up the background at least requires getting rid of the junk from soda cans to things tacked on the wall. For environmental pictures of someone working  props that they would normally work with can add to the context. For an actual head shot getting separation from the background will render it slightly out of focus concentrating the eye on the (hopefully) in focus subject.
Getting rid of the pop-up flash prevents the harsh shadows and red eye caused by a small flash very close to the lens. If you don't have enough light wait for a brighter day or find a brighter spot to shoot.
Once you've created the image be sure to crop and adjust it…Learn how in Photoshop.
Your Head shot could be your first chance to make a good impression
In today's workplace, a potential client's first impression of you will most likely be from a social media website such as LinkedIn or facebook or your own corporate website making it much more important that you show them, thru your pictures and words, who and what you are.
Bower Web Solutions offers portrait photography including environmental photography for your website and social marketing needs. As both photographers and web specialists we can get the shots that sell you as a person and a representative of a business.